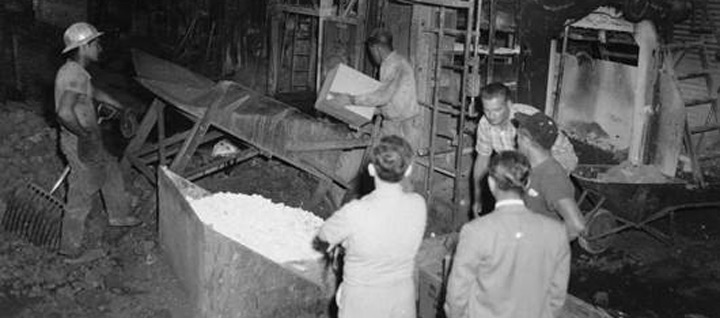 Company History
Anaheim Foundry started out in 1953 initially manufacturing pipes and fittings. As part of its growth and effort to plant a firm footing in the industry, a new coupling manufacturing facility was built to produce couplings as a new method for joining pipes. This led to the introduction of Anaco no-hub coupling to the market in 1963. Anaheim Foundry's Anaco no-hub coupling has been in production ever since, following the specifications set out by the Cast Iron Soil Pipe Institute.
Upon introduction, it became the immediate alternative to the older method of joining conventional hub and spigot pipe fittings by caulking with oakum and lead and the later method of compression gaskets. In 1982, the HUSKY coupling was introduced. It was engineered to provide a heavy-duty all stainless steel coupling that balanced the desire for a more rigid joint with a superior seal. Husky couplings provide greater deflection and pressure limits than the rubber compression gasket developed in 1964. The Husky coupling provides engineers and contractors with an improved joining method for today's no-hub piping systems.
In 1996 Anaheim Foundry was acquired by McWane, Inc. McWane then closed the foundry but retained the coupling manufacturing facility. Under McWane's new strategy, in September of 1997, the Anaco coupling manufacturing plant moved from Anaheim, California, to a bigger facility in the city of Corona, California. In 2023, Anaco coupling is manufactured in Marshfield, MO.
Anaco's ability to manage all aspects of its products comes in part from its self-sufficient plant, maintaining control along the way. All of the stainless steel screws, clamps and gaskets used in the finished Anaco and Husky couplings are manufactured by Anaco at its plant in Marshfield, MO. To ensure continuous excellence of quality, each step involved in the manufacturing process is monitored with precision testing equipment.
Today Anaco is the largest manufacturer of couplings in the United States, providing the perfect answer for joining hub-less cast iron pipe and fittings in drainage, waste and vent (DWV) plumbing systems.